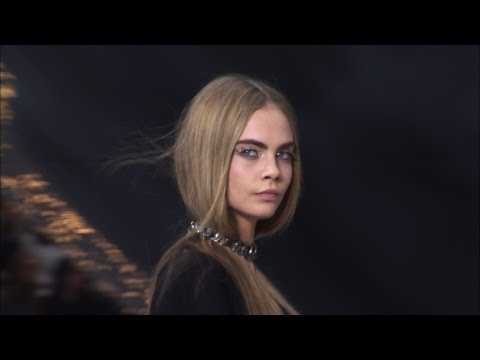 The idea that Karl Lagerfeld seemed to want to convey this season at Chanel is one that caters to the world traveler. The interlocked C flags that covered the pop up globe on the runway was to indicate the location of Chanel boutiques around the world; Chanel is, and always will be, a global brand.
The globality of Chanel seemed to be a bit of a theme, with the way that Lagerfeld integrated some tribal feathering on top of two of the tops he sent down the runway, but before anything came of it, the idea was gone. Coats that were short at the front and long at the back toyed with the idea of movement, a Chanel woman who constantly hops on planes and needs something easy and comfortable to wear, something that also came across with the jackets; they were boxy as a Chanel jacket is, but the arms were wide, giving a roominess, and hopefully, some comfort.
However, one of the problems I had with the show was the practicality of the clothes. The jackets also had a high funnel collar. "Who would wear that on an airplane?" I thought. The boots, high and over the knee, had thick heels. They were nice, but the juxtaposition of the chains at their front gave the air of excessiveness, and were completely unnecessary.
I do wish that Lagerfeld chose to stick with one idea, such as the skirts over shorts. They look easy to wear; the skirt was cut short, and went over the wide legged shorts without ever seeming too weighty or layered, and the models walked the runway in them with ease.
Article by: Abraham Hernandez