Last year marked the ten year anniversary for the album "We are Eyes, We are Builders", the debut release of forgotten synth band Soviet. It's important to note that the word forgotten is used in complete respect. Soviet have always deserved more praise and respect than they have received. When one is creating an album, they probably don't think much of the status of their project ten years in, but that time has come for creator Keith Ruggiero, so it's a good time to take a look at Soviet and the classic songs that made his project stand out from all the others. The past decade has brought electronic musicians into a new realm. Nowadays keyboards, synthesizers, drum machines and numerous other electronic instruments are common practice in most music. Listeners have come to accept synthesizers as genuine instruments, so it's interesting to think back to a time where they were back lashed and looked down on. Even a decade ago, most analog synthesizers could be bought for a small fraction of their current asking prices. In the late 90′s, Ruggiero took advantage of this situation and started buying up all sorts of vintage synth gear. Equipped with a four track recorder and head full of ideas (Keith was a film student at  Syracuse University …The band and name were inspired by Soviet films), he went to work recording a Soviet demo album, which is simply called "C".
"C" consists of 16 fairly strong and interesting recordings. A lot of the album tracks are early versions of songs that would eventually be re-recorded and put on "We are Eyes, We are Builders". It's a special treat to be able to hear these versions; a sort of D.I.Y charm. There's sort of a shared curiosity between creator and listener, as if we are listening to this early line up of Soviet figuring out the ways of each synth as the song rolls on. A lot of the strong parts on "C" come from the lesser known gems, the first being "Unit Detacher". It starts off with a heavy LFO modded Blade Runner like synth line that would make Vangelis himself bob his head. The drums are peppy and fun; good simple modest grooves. This type of song is pretty indigenous to "C", and it's great to hear this side of Soviet. Keith isn't trying to please anyone but his ears, and by doing this, you seem to get a real picture into his creative process. On "C" you will also hear two wonderful tracks called "Bank Holiday", and "Flaunt It". If "C" was your first introduction to Soviet, this is where you would first hear a  mysterious and more serious side of the band, which was always a little underplayed in future releases. Ruggiero has the ability to craft very grand, deep and curious songs that hit you in a way that make you feel like you were right in the middle of an intense film, right at the point of an amazing plot twist. The last sleeper hit on "C" is "Frantic", which for years was only available as an mp3 snippet for a website promoting it for their compilation. A lot of "C" is less "pop" than most people associate with Soviet, so it's interesting to hear the choices of what would stay in the demo vaults and what would go on to create their debut, "We are Eyes, We are Builders".
Keith sent "C" to various record labels, and eventually got signed to Joy Electric's label Plastiq Musiq. At this point Ruggiero had moved to New York City, and recordings of 'We are eyes, We are Builders" began. New York City in the early 2000′s was at a new height of creativity, and the new musical trend Electroclash was in full force. Whether this was a helpful thing for Soviet is still up for debate as the group has never associated with being Electroclash. Because of their electronic sound, they were inevitably clumped into the category, and was asked to play out more are more. A full band was formed consisting of members Chris Otchy, Kenan Gündüz, Greg Kochan, Amanda Berkowitz (some of who he met and played with at film school prior). Each member really brought their gear to life in live performances. It seems as if Soviet was not using vintage gear to be trendy or to try to prove anything other than they were a real band, making real music played entirely on synthesizers. We are Eyes, We are Builders (the name influenced by a Dziga Vertov quote) was finally released and quickly gained cult status and praise from critics and listeners alike. They would go on to receive titles like band of the year, and even being called the "Nirvana of the 2000′s"; a very interesting and bold statement. Nirvana represented all sorts of changes in a time where popular music of the time was light years away from what Kurt Cobain believed. Saying Soviet was the "Nirvana of the 2000′s" must have to do with just that; change. Most know what Synthpop is, and it could be relatively easy to push Soviet into that category, yet there's something deeper in their songs than just being "Synthpop". This works in the same regards that most Nirvana songs are much deeper than just being Rock…or "Grunge".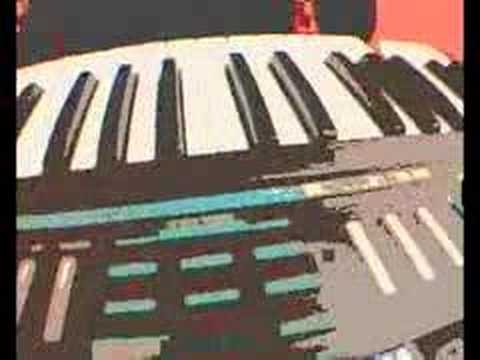 It's nice to have ten years to really take in W.A.E.W.A.B. "Candy Girl", arguably Soviet's biggest hit represents a sonic pallet and attitude that seals itself as a genuine catchy pop gem, but struggles to capture that mysterious and unique energy that most of the songs on "C" possessed. This isn't to say that the energy isn't present on W.A.E.W.A.B, it's just buried deeper and pushed around. While that pop sound takes up a lot of time, it's not a bad thing as each of these songs is filled with great hooks, melodies, and sounds. The second half of the album is where that Soviet mystery comes into full effect. "Soviet Bot" is the first one to carry that cold, mysterious wind of sounds. It's not really poppy, and not completely welcoming at first, as blips and a scattered drum beat slowly fade in. It's curious; kind of groovy and there is even a little spoken word (teetering on rapping!). Like moonlight hitting snowflakes at just the right time, this song has that "right time moment" too. As Soviet Bot reaches it's two minute mark, all anticipation and curiousness of the first half pays off with a pretty amazing and melodic second act, (with some of the most clever lyrics heard on the album). Next up is the track "China", which continues that mysterious air that makes Soviet so unique. China is a pretty open track; meandering in and out. It's a good balance between the poppy first half of the album and the mysterious second half. The last two tracks on the album are two instrumental songs – "Solar Baby", and "Street Thunder". These two may hold up the best of all. They almost seem like strange hybrids between the songs of "C" mixed with W.A.E.W.A.B. The palette is completely perfected. While they seem like last minute additions to the album, in this case that is a very good thing. These two songs sound as is Soviet had mastered their programming skills and finally had time to just have fun and focus on making really great sounds and structure. It makes you want more and really excites you as to what this band could possibly pull off next.
After the release of W.A.E.W.A.B, Soviet started doing some pretty big national tours, opening for Add N to (X) and having residencies in Los Angeles. They played the 2001 electroclash festival, and had a spot at the 2001 Synthcon event (which can be seen here). Write ups continued, and things kept getting bigger for the band. It almost seems as if Soviet had reached a point where they pretty much could do anything they pleased. A&R Reps started hawking in on Soviet, and it seemed inevitable that the group would start working on a new album to follow up W.A.E.W.A.B's massive popularity. In 2002, Soviet released a single of In My Room; a cover for a Yazoo tribute album, which received high praise and got plenty of club play in New York City. With all things Soviet going on, one must ask, where is the follow up album? Ruggiero states in an interview from '03 that a new album had been completed, which he says has more of an "Echo & The Bunnymen", but soon things went quiet.
The endless touring seemed to finally come to a slow down towards the end of 2003, and at some point along that way, Soviet went on hiatus. The hype of electroclash was coming to a close, and bands like Fischerspooner and Ladytron were fighting to keep their relevance. It's interesting to think about why not many people jumped up at the time and wondered what was going on in the Soviet world. As stated, they had a new album ready and while the electroclash backlash was going on, you would think that they would be trying to push through just like the others. Perhaps people assumed this. Perhaps there was confidence in their band.  While Soviet as a band was no longer playing shows, Ruggiero seemed to stay busy behind the scenes, producing the song Sheltered Life; a hypnotic classic for Erlend Oye's 2003 album Unrest.
Ruggiero with his new solo life eventually moved out west to Los Angeles and set up as a commercial composer and sound designer, forming KAR Songs. KAR songs produced one album, entitled Moving Pictures, a sort of concept album featuring 17 instrumental songs inspired and envisioned for films. Since the last Soviet release, Ruggiero's song writing and synth programming abilities have drastically matured.  The songs are lush and unique, as seen on the track Longing. While Keith left out vocals, it is certainly not short of emotion and heart. Moving Pictures really captures those mysterious and perfect aspects of "C" and W.A.E.W.A.B and does a pretty good job distributing it all well over the course of the album. "Call To Arms" is a good example of this. While Moving Pictures technically isn't associated with Soviet, it's almost frustrating that is wasn't released as the long awaited follow up album to W.A.E.W.A.B. It's personal, thought provoking, and creatively leaps ahead of what others were doing at that time. It would have been an interesting and bold move. Soviet was a band adored and considered on another level compared to it's musical piers; releasing this would have shown Soviets ability to live up to all expectations and release something truly unique and different.
As time went on, Ruggerio Got more and more into sound design and scoring for commercials and becoming somewhat of  remix guru, doing remixes for bands like The Daysleepers, Peaches, Tiga Baby, Freezepop and Nitzer Ebb (To name a few). KAR Songs soon became Sounds Red and His Silver Lake studio Grew. Other projects involved a curious rap group called DaDaDa, and eventually the release of the long awaited sophomore Soviet release, Spies in The House of Love. While it was almost a relief to hold the new Soviet album, Hearing it was sort of a different story.  The album feels large, produced, and has a hard time truly feeling like soviet, respectively. Gone are the semi lonely songs, mystery, and heavy electronics. Although the album has a hard time capturing what made Soviet unique, Soviet still felt very alive in every remix produced by Keith. It almost felt like the remixes were more so new Soviet songs than the Actual album, and with that, there is some comfort. Perhaps in the long run, Soviet is an adaptive and meandering project; a puzzle only a true and patient fan can solve and appreciate.
While we still have not heard a follow up Soviet or KAR Songs album, Ruggerio has been staying very busy, recently recording a soundtrack for an upcoming PBS documentary called "Life Begins at Rewirement".  He has described it as a mix of  "Eno & Vangelis". The program will be shown at South By Southwest, and there are talks of the soundtrack being released as an album. Soviet's first album "C" is currently being prepared for an official release on Brooklyn Cassette Label Dazzleships Records, and last fall We Are Eyes We are Builders was re-released with a limited Cassette Release on Burger Records. As the years go on, and it gets easier to see Soviet and all of Keith's projects as a whole, Ruggerio falls into that area of prolific under appreciated musician; The Sylvians and Walkers of the world. Perhaps it was timing, perhaps content, but whatever put Ruggerio and his projects in their place seems so natural and content. There is a peace with everything. Soviet is Exactly where it needs to be in this world. Perhaps Soviets lyrics tie it up nicely "We were never stars, nearly stencils; Drawn upon with custom pencils".