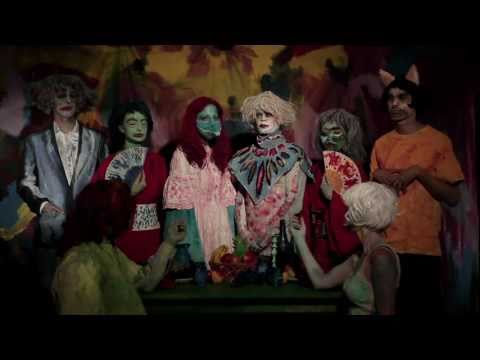 Here's the video for 10 minute odyssey of weirdness "Forever Dolphin Love" from New Zealander and jazz-pop strangeling Connan Mockasin. The song's eerie, tendril-like unfurling is only the first stage in a series of unsettling mutations orchestrated by Mockasin. Rattling, groovy sideshows dissolve into shimmering, languid guitar licks and thunking bass hooks. The opening air of wonder and menace is preserved in Mockasin's obscurely winding harmonies and his bizarre, almost androgynous vocal (like fellow hideous jumper wearing islanders Sigur Ros, Mockasin sometimes decides to quaver in his very own made up language. Perhaps the psychological stress of recording in a haunted house was too much). This sounds like Radiohead being sucked into an opiate whirlpool and makes Brian Wilson sound like a straight-laced choirboy.
Below is the Mickey Moonlight "Sludge" mix of FDL. It takes Mockasin's dolphins and jettisons a shipment of horse tranquilizers onto their pod. Which is good.
Mockasin's LP, also named Forever Dolphin Love, was recently released on Erol Alkan's Phantasy Sound.
Richard Greenan.