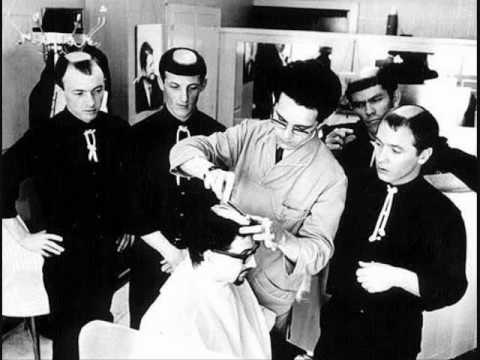 "Sunlight grids quiver in the system. Read on! It's monk time – it's hop time. Don't read this. We said: don't read this. Let sapphires glide into the grooves. What is beat? What is beat today? And what is over-beat? And who the hell is going to melt the hot and cold world of tomorrow?"
What's a good way to deconstruct the Beatledom of pop, stage a war protest, and dabble in gallows humour? Why, shave the top of your head, don a noose, and aggressively strum the banjo, of course. Such was the thinking of Dave Day, an American GI stationed in West-Germany during the mid-sixties, and co-founder of transgressive garage-rock group The Monks.
The hard, aggressive sound of The Monks definitely stood in stark opposition to the ornamental pop that flooded the scene at the time. While fuzzed out and deranged, they retained a relentless, military precision. Listening to Monks songs often feels like going through the ringer on some hardcore hillbilly assault course. "Shut Up" sounds like someone hammering nails into a coffin with a banjo.
The White Stripes, The Beastie Boys, and The Fall count themselves among The Monks' admirers. Click HERE to sample The Monks' 1966 classic, Black Monk Time.
Richard Greenan.