Design a Wave-Remedy
Cool bass-lines, fat wide smooth synthesized calculations, escalations, velvet fuzz and beyond.  Electric flute hybrid streams, a crisp shimmer to psychedelic jam inspired keyboard runs, spotted by vocal ejaculations covered in reverberating shiny echoes.   A destination filled with vignettes designed to cool you down with each visit, but keep you casually excited for the next one. A musical air-conditioner filtering out the hot air pollution your ears can be subjected to in undesirable circumstances, leaving a cool pulsing flow. Easy for your ears to blow your mind closer to you, so you can open up a trap door in your skull and give your brain a soothing jump-start, with a defibrillator covered in mint gel, freeing and sublimating the steamy vapors of your trapped and overheated mind, when it is so.  A relief.
My favorite track is "Actually You" or "..in fact it was you".  A lot of interesting videos featuring collaborations with Tom Hirst, the main designer featured on this page.  The album, "In Your Yard" is out on 12″ from Alter.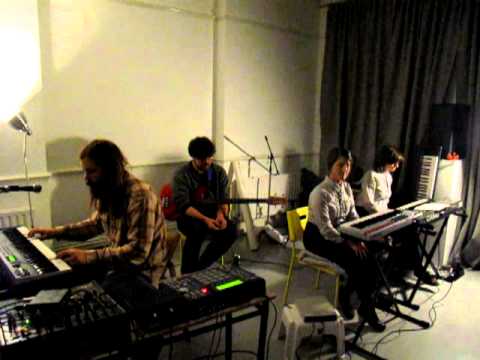 Article by Andrew Wheeler