Japanese art and waves of water go together. We've certainly all seen Hokusai's "The Wave", which regularly does battle with Hendrix and Dylan to cover the most square feet of dorm rooms across the country. There's a mountain on the horizon and some fishing boats too, but the print is dominated by a seething wave with grabby frothy tendrils that inspires an almost religious terror of the ocean: the tsunami.
Japan and waves of water do not go together, as evidenced by recent tragic events. Staring into the sea can be frightening, yet the ocean still retains a magnetic pull. This attraction underwrites the work of Tokyo artist Suzuki Yasuhiro. Currently at the Research Center for Advanced Science and Technology at The University of Tokyo, his past projects suggest a certain feverish affinity with water. His "Pencil to Drawing the Sea" (sic) from 2002, presents eleven wooden pencils, each spliced with two shades of lead. The colors are pelagic variants upon blue, and range from cool day tones to the murkier hues of the sea at night. A single sweep of the pencil creates a bitonal horizon; several more create one or many waves.
2005′s "Property of Water", meanwhile explores the fluid waveforms of water by projecting rays of light onto a revolving drop-shaped screen. The screen is suspended in a darkened, mirrored room, creating another reflected waveform (of waveforms) (of waveforms).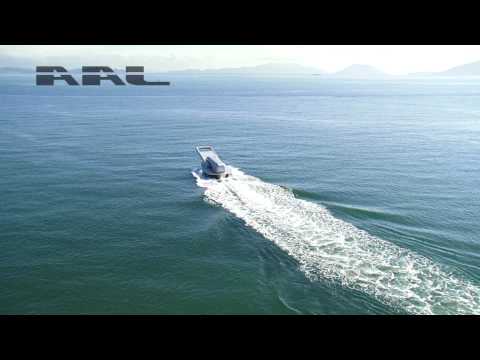 With Japan's last commercial hovercraft line shut down in 2009, Suzuki began to look for new ways to zip across water. The result was the "Ship of the Zipper": a motorboat modeled to look like an industrial zipper fastening. Suzuki made a scale model as far back as 2004, but only unveiled the vessel at the Setouchi International Art Festival of 2010. Matte grey and unassuming, it could pass for a shrink wrapped pill capsule with ringpull.
Viewed aerially, however, its foamy wake resembles zipper tracks, parting the seas in a decidedly non-biblical fashion. The artist has compared it to teeth, saying that "as the vessel glides through the water, the wake looks like a zipper coming undone, suggesting the image of the sea opening up". The recent natural disasters have of course introduced a new kind of machinating wake, featuring flotsam, debris and bodies. In light of the devastating tsunami where the ocean literally opened up to swallow people, "Ship of the Zipper" gains a final chilling poignancy.
–
Article by:
Rahel Aima- A writer currently based in Brooklyn. She can also be found at killingdenouement here and Twitter here.