Art at its very core creates debate and discourse about to whom it belongs. High art belongs to the rich, bourgeoisie, who really see this as the true art; while low art, like street art, belong to the proletariats. To speak of art one inevitably discusses culture.  Art is cultural. Who is more cultured?  The bourgeois will argue that art belongs to their realm because it is civilized but the proletariat see art as accessible, a voice in which they can respond to the commodification of our world as it becomes a capitalist beast.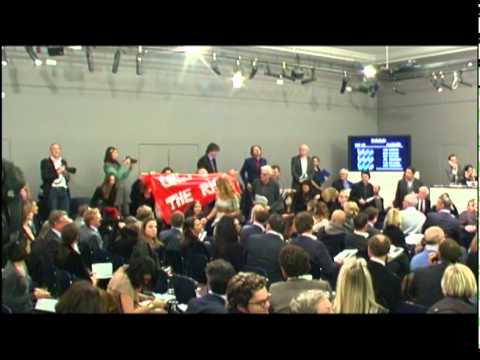 The terms "bourgeois" and "proletariat" are indeed dated. But as the gap widens between the rich and the poor in many Western countries, one is brought back to the idea of the one manifesto that shaped the modern world. Marx and Engels' points on communism, though good in theory, produced very sketchy results that have littered Western history with numerous failures. But the sentiments are true. Capitalists own our world now. Art is no exception to this. When speaking of art, who does it really belong to and why? Arts and culture have merged to belong to people, not groups or certain elevated members of a given society. So why are we now fighting for art to prevail and it's just ending up in the hands of the rich? Is art just something capitalists bring out for special occasions or do they indeed have a hold over it againt? Why do they seem to still dictate what is "good" or "bad" art?
In Britain as of late, political discussions become cultural discussions, which affect the arts. Everyone in a liberal mindest, whether politically or culturally, seem to be losing. University tuitions are rising, jobs are cut and now art is targeted. Funds to the arts have always been touchy. Art is important, whether it is a piece of music or a painting or installation pieces or a book.  When the terms "bourgeois" and "proletariat" fell of fashion to use, so did, one would think, the ideas behind them. Humanity, not class distinctions, should be the prevailing idea here.
The activist group Arts Against Cuts is a bold new socially aware group that is fighting back against the British government's attacks on the arts. One of their strongest, and yet oldest, arguments focuses on art education. This is a problem in many nations around the world as they give priority (re: money) to other sectors of domestic budgets over the arts. AAC seeks to make their government responsible for such irresponsible behaviour.
The Tate Modern was one such spot AAC occupied in opposition to the massive spending cuts but their hostile takeover at Sotheby's Contemporary Art Auction fully explores the divide between which group art belongs to. The auction is literally catering to the idea of the highest bidder.  It is a commodity, something packaged and purchased.  In the middle of the sale of Warhol prints the AAC holds up a banner saying "The Orgy of the Rich." The statement issued by an AAC member is poignant and smart, stating that auctions like these, "commodify creativity and Sotheby's helps them ferret away their goods by offering creative accounting services such as 'obtaining conditional exemption'." The care for art and what it truly means on a philosophical and emotional level is absent, according to the AAC.
Sotheby's and the Tate Modern aren't the only places where this kind of attitude toward art exists. Walk into any office building and you'll see the how creativity and art are ruined.  The other side of this argument is that art is for sale for a reason. It is someone's livelihood but at what cost?
By: Sarah MacDonald