We got a chance to chat with  George Lewis Jr. of Twin Shadow. Originaly from the Dominican Republic George  relocated to Brooklyn and adopted the Twin Shadow moniker. 2010 saw the  release of his debut album Forget, produced by Chris Taylor of Grizzly Bear. Twin Shadow was also featured as Rolling Stones "Band of the Week" back in October. His music has been described as 80′s tinged new-wave pop, and he has been dubbed as "The Black Morrissey" by some, read the email interview below.
s.o.t.r.-One might say you sound like a hybrid of Joy Division and Depeche Mode. A Google search of 'Twin Shadow' reveals that you've been dubbed "The Black Morrissey." Are you okay with these analogies? Are there other musicians you'd rather be compared to?
Twin Shadow-Everything is ok for me, people are talking and what they say is not my business, what is my business is what they buy (tickets to shows and records) and talk seems to help that. Keep talking
s.o.t.r.-You've mentioned that you had a fairly troubled, rotten past. Did you intentionally channel this into your music? Or, do you think it crept in inevitably?
Twin Shadow-It doesn't interest me to harp on my past, a lot of people I saw growing up didn't get out and I did, so I've got it good, if I pull from it, it is because there is a bit of mystery left, something I don't understand and am trying to understand.
s.o.t.r.-You grew up in Florida and have lived in Boston. Why did you need to relocate to Brooklyn to make Twin Shadow happen?
Twin Shadow-It could have been anyplace, it's the people who have made twin shadow. 4. I've read that you do your recording in hotel rooms. Is this because you happen to spend a lot of time in hotel rooms? Or is there a bigger purpose to this? I used to work the night shift at a hotel front desk, and much of your sound feels the way it feels to be the only one awake in a creepy hotel lobby all night.
Hotel rooms seem to be a refuge for people feeling who are feeling guilty or hiding from the world, I once rented a hotel room for half a week to be with someone who was seeing someone else. It felt dark and wrong, more so than if we had just met at someones apartment for our secret love. But, in the case of forget, it was practical for me because I had ideas and I was working out on the road.
s.o.t.r.-Because Forget is your first album, I'm curious about when you did most of the songwriting for it. Is there any particular era of your life in which most of the songs were written?
Twin Shadow-Winter of 2009 2010— very quickly
s.o.t.r.-There are glimmers of nostalgia on the album (especially on "Yellow Balloon"), and yet I wouldn't call the album a happy one. How sinister (or not) are you in real life? Would friends call you a happy person?
Twin Shadow-I can be a thorn to some people, but I do my best to keep it underneath the skin. It is not a goal of mine to be an asshole, I work hard to be graceful, that is a very hard thing for a man.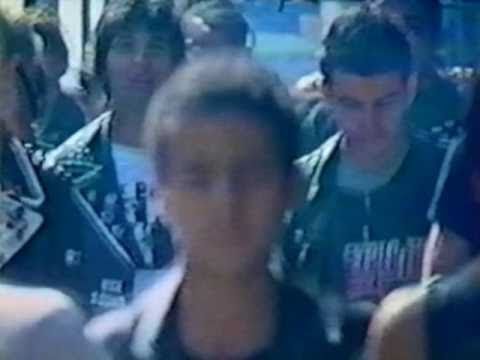 Twin Shadow live on Daytrotter