Release Date: 1/25/11
Label: Warner Bros.
Iron & Wine's Sam Beam has done it again with his 4th studio album, Kiss Each Other Clean.  Although this time around he has created an even more dynamic sound than ever before.  This LP is infested with sassy sax solos, doo-wopping back-up vocals [which literally appear in "Half Moon"], key-induced psychedelic curiosity and funky bass lines.  The poetic storytelling that Beam is best known for still remains the key ingredient that holds it all together, but this is undoubtedly his most experimental release to date.
The opener "Walking Far From Home" [listen above] makes you feel like you're aimlessly wandering around in one of Beam's dreams.  The textured layers trigger so many intense feelings that take over your mind and body.  As the song progresses, it makes you want to climb to a mountaintop and uninhibitedly twirl in circles like Julie Andrews in The Sound of Music.  Or better yet, slowly fall backwards into a calm sea as subtle waves melt you into the saltwater.  It's a huge, overwhelmingly perfect tone to set.
But then gears abruptly shift to the funkiness that is "Me And Lazarus".  It's definitely an unexpected change of pace, but doesn't fail to peak your interest. It's probably a good thing to be pulled out of the trippy state of mind that the first track left you in for a moment anyways. "Tree By The River" welcomes back the soft spoken and gentle Beam that you've heard before.  Although various instrumental layers are present, his reflective lyrics are the most prominent element.
"Monkeys Uptown" shifts things, yet again, but this time into an up-tempo synthesizer-happy jam that's later seen in "Glad Man Singing" and scattered here and there on other tracks.  Then there are the random tribal-esque rain forest sound effects sprinkled throughout "Rabbit Will Run" that prove Beam didn't hold back from dabbling into anything and everything he could think of.  As odd as you think this might sound, it somehow works.
"Godless Brother in Love" vocally reverts back to an intimate side of Beam that you're probably a bit more used to.  The satisfying soft harmonies almost allow you to slip into unconsciousness before being pinched awake by the feisty "Big Burned Hand" ['video' below]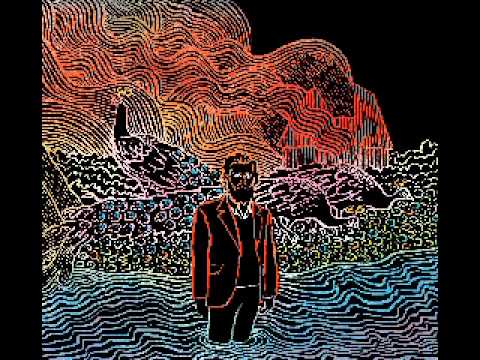 The album name was extracted from the closer "Your Fake Name Is Good Enough For Me".  It's a fittingly epic end to the musical joy ride that Beam takes you on throughout the album's entirety.
In a way, Kiss Each Other Clean is all over the place.  But it's also ambitiously impressive.  Just when you think you have the tone of it figured out, it does a 180.  There are elements of so many genres pulled in that it seems impossible for it to flow at all.  It's dreamy…it's funky…it's trippy…it's tender.  It makes you want to have a dance party, take a nap, embark in a cross-country road trip, and sing-along with the gospel choir at your local church all at the same time.  But Kiss Each Other Clean does, indeed, flow together because each song sparks so many of your favorite emotions that you can't help but be sucked in over and over again.
Beam strayed away from the stripped down, acoustic guitar-picking folk whispers that we heard in The Creek That Drank The Cradle many years ago. Although I love that side of him, this equally as inspiring assortment just further confirms that Beam is always evolving and will never be a one-dimensional artist.
Kiss Each Other Clean was worth the 3 year wait – but it might take just as long for its complexity to sink in.
By:
Meagan Scott