Vince Collins is an animation legend. He has been creating psychedelic short films since the 1970s, well before Tim Burton ever scared our pants off. His style is very organic, free-flowing, and made before a lot of us were even born: take THAT Adobe. Proving that you don't need to take acid to trip anymore, check out his animation "Malice in Wonderland" (1982):
A terrifying twist on the children's classic Alice in Wonderland, recognizable forms morph and melt into one another, completely detached from any context – like they could at any moment float off of the screen and into your nightmares. It feels odd watching these animations on my slick Macbook Pro, the low-fi films losing a lot of their original glory on an LCD screen. Music and sounds only add to the mind-altering imagery, a warning on youtube reminding the viewer not to watch whilst "on mushrooms,ketamine,acid, or any kind of sketchy comedown!"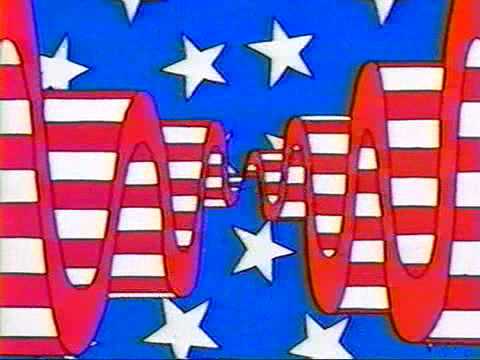 On another note, the film "200", sponsored by the U. S. International Communication Agency grant project, uses a similar aesthetic to "Malice in Wonderland" but focuses on the red, white & blue. Sickeningly, we are forced to sit through a few minutes of Americana designed to liven up the Bicentennial celebrations. What I do like about this video is it's power to hypnotize – I was lulled into a trance watching the patterns and colors dance before my eyes, so much so that I am not really sure what it was about.  This is the power of Collins' animations: they render the world in a colorful hysteria that cannot be ignored, but simply absorbed.
Text by Marion Piper.