In August, indie legends !!! released another fantastic, vibrant stomp through dance rebellion: Strange Weather, Isn't It?.  The album's infinite ability to conjure the best of !!!'s earlier efforts has not gone unnoticed in the time since, but much question looms over Strange Weather; we talked with lead singer/funkmaster Nic Offer about the new release and the band's other recent happenings.
SOTR: Your new album was released in August, but you haven't released anything since 2007.  What have you been doing in the mean time?
!!!: We toured for about a year after Myth Takes came out, and started writing about a month after we finished, and have been working straight since then. We don't live in the same town however, so we move a little slower than other bands.
SOTR: What was the writing and recording process for the album like?  Have you been working on it since Myth Takes or is it a mostly recent creation?
!!!: Mario and I got a bunch of stuff together in California, we met up with the rest of the band in berlin, jammed for a couple months there, recorded for a month in California, then spent several more months recording and mixing in NY. It's a recent creation in that we were creating it up to the very last minute, a song can take a left turn at any stage in the game, even the final stages.
SOTR: Why "Strange Weather, Isn't It?" for the title?
!!!: I was hungover in bed one morning watching a Wong Kar-Wai movie called In The Mood For Love. There was a point where the leading actor and actress ran into each other on rain drenched streets. things had changed between them at that point in the movie and instead of addressing all they needed to address, the first thing he said to her was "Strange Weather, Isn't It?" I instantly though it sounded like the perfect title. Instead of addressing all the bitterness of the record we decided to avoid the question and just chalk it up to the changes in weather.
SOTR: I loved all of the tracks but the first single, "AM/FM," especially.  Were you going for something new on the album?  Did anything in particular inspire you?
!!!: We were jamming to a percussion loop from an old Colombian record, and just kind of got lost form there. We always try to go for something new on each record, and this record was no exception. I suppose we thought were trying to make some sort of techno, pop, more mature type of record. Who knows? Maybe we did.
SOTR: Myth Takes had an insane amount of press and positive reviews.  Did its reputation affect the way you approached the new album?
!!!: I suppose in some ways, yes. But you can't really think about stuff like that, so we didn't.
SOTR: Who writes the lyrics for your songs?  Oftentimes they seem to be very "stream of consciousness."  Is this intentional or are there deeper meanings?
!!!: I write the lyrics, they're not stream of consciousness, in fact they're rather carefully plotted out.  Remember the Yeats line:
A line will take us hours maybe;
Yet if it does not seem a moment's thought,
our stitching and unstitching has been naught.
Yeah, me and William, two birds of a feather.
SOTR: You are frequently asked about your name.  Does explaining your name to people become tedious or do you find a certain pleasure in it?
!!!: Pleasure? No, I wouldn't call it that. Maybe I should try that approach. I always try to answer the questions i'm asked a lot in slightly different ways, but i'm really running out of steam on that one.
SOTR:  !!! is, among many things, a band of great dancers.  What is your favorite dance move?
!!!: There's not a particular move I'm necessarily partial to. I just like to see someone giving their all, going for it, and losing themselves in the music.
SOTR: If the band had to choose a panelist from The View as their mascot, which woman would it be?
!!!: Kyle Falconer.
!!! recently released a great clip for track four of Strange Weather, Isn't It?, "Jamie, My Intentions Are Bass" and are touring Europe for the rest of November.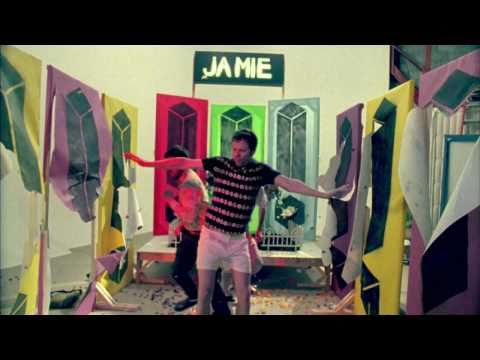 Cassandra Gillig