Brooklyn's lo-fi masters Beach Fossils have generated quite the buzz on the indie scene since releasing their self-titled EP back in May. Along with their constant touring, the band just released a 7-inch with their new singles "Face It" and "Distance". Singer/guitarist Dustin Payseur was kind enough to take some time between shows (Beach Fossils are currently touring in Europe) and exchange some emails with me about the band's formation, creative process, and the Brooklyn music scene.
SICK OF THE RADIO: I saw you guys play in August at Black Cat in DC, which was an awesome show so thank you. I noticed you perform your songs at a much more faster and upbeat tempo. Is there any particular reason for this? Do you view it as a way to bring more energy to the sound?
DUSTIN: The way we play live is in a way a reflection of our environment, if the crowd is showing excitement then we feed off of it and the tempos are usually faster and the shows are more physically intense and interactive with the crowd. In my opinion it's the best when everyone is going wild and we can crowd surf, but sometimes a super mellow show also hits the spot.
SICK OF THE RADIO: You guys have had some recent line up changes with Sennott Burke announcing his amicable decision to leave the band. How has this effected the band in terms of recording the new album? I read that you all decided to give fans and strangers the opportunity to be potential replacements by contacting the band via email, which isn't the most common approach. Did that or is that turning out as you guys hoped?
DUSTIN: Before Sennott left he was a part of the writing process, but now he has rejoined as a member of the live band and it is just John and I as the core songwriters. We didn't necessarily ask for fans or strangers to join, it was posted by other blogs that fans should contact us to become a part but we ended up working it out on our own.
SICK OF THE RADIO: I listened to some of the upcoming track off your next release and I really enjoyed the sound the band is developing. I liked how on "Face It" the vocals were a bit more distinct and the instrumentals are a little less fuzzed out and more crisp while still keeping a nice lo-fi sound. What has the creative process been on the new album? Do you guys generally collaborate on melodies and lyrics together or go off individually and then come back and share ideas?
DUSTIN: The creative process is almost the same as how it used to be with me alone letting songs sort of organically flow out, except now with John as part of it as well. John actually wrote and sings the lead vocals on "Face It".
SICK OF THE RADIO: The band has only been around for a year or so, but has already generated quite a following. Are you all taken aback slightly by how quick everything happened? What were you guys doing before the formation of Beach Fossils?
DUSTIN: I'm definitely grateful for how things have worked out. Before Beach Fossils we were all playing in bands but none of it was anything very serious, it was just something we loved doing and didn't care about anything else but the art, which luckily it still is, but it gets very complex as time goes on. I was just working on songs in my bedroom and now here I am answering your questions from France.
SICK OF THE RADIO: The Brooklyn area has become the hub of the indie scene, producing many different bands whom are all for the most part bringing something a bit different to the table. Have you found this burgeoning community helpful? Does it push or influence you guys in terms of creativity and experimentation?
DUSTIN: Living in Brooklyn inspires me a lot, it's amazing to see how much is going on and how anybody can do almost anything they want and there will be an audience that respects it. It's inspiring to be in the middle of so many different sounds and styles and textures, but I do try to keep myself distanced from it on a musically inspirational level to maintain an original sound.
SICK OF THE RADIO: Are there any bands at the moment that you are really blown away by?
DUSTIN: It's a little hard to say, I haven't gone out much recently to catch live music like how I used to. In between touring I just love to stay at home and relax and work on new material. In a way touring has diminished my love of live music, it's just over-stimulation, which is awful to say and I hope that changes! I think I'm mainly tired of rock music, sometimes I can't stand guitars.
SICK OF THE RADIO: I know you [Dustin] got involved with music early thanks in part from growing up in a musical family, how did the rest of you get interested in music? How did you guys come together to form Beach Fossils?
DUSTIN: Everyone else in the band has been playing music for years, writing and recording their own solo albums, and our new drummer Tommy went to Juilliard to study jazz saxophone, he's probably the most talented musician in the band and there he is sitting behind the drumset! I think we have a great line up, I feel very lucky to be working with everybody in the band.
SICK OF THE RADIO: You guys are currently touring in Europe, how is that going? Have you noticed any big differences between American and European audiences?
DUSTIN: It's been exhausting and relaxing at the same time, luckily the time has been flying by because it's been so enjoyable. There are differences between the audiences but I couldn't say I enjoy one more than the other, it's just a different sort of appreciation. The appreciation in general is enough to make it feel worth it to me!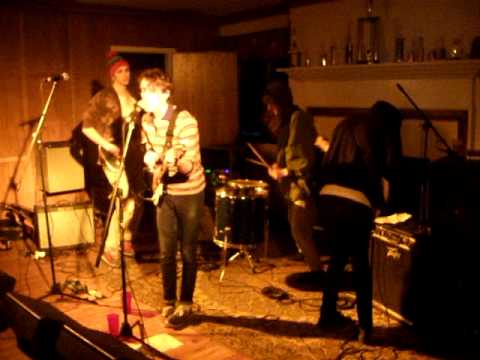 By: Stephanie Glass