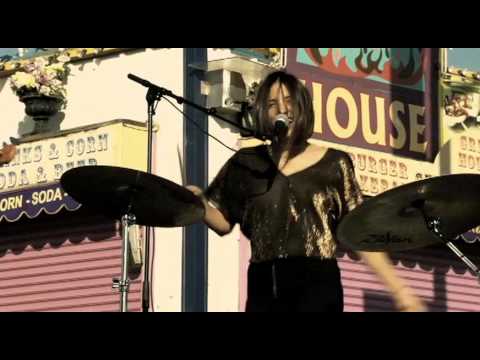 It's been almost 100 degrees in New York City for about two weeks straight. Even the few pockets of rain have not relieved the thickness of humidity that has settled on the city. The air conditioners can't keep up and Con Edison, NYC's electric company, has been reporting outages all over the five boroughs. Despite this, we know how to party and dance until dawn, and we know a perfect soundtrack for such debauchery: Hank and Cupcakes.
The Brooklyn-based duo self-titled EP is an explosion of sex and pop. And who doesn't love a little sex and pop with their morning coffee? From the second the album starts, sexuality exudes with loops and ups and downs of dirty (but good dirty!) sounds and the charming vocals of "Cupcakes." And although the entire EP is a tight, well-made effort, the first track, "Ain't No Love," steals the show and keeps on running.
A close second is the song "Pleasure Town," and that's exactly what it is: pleasure; a hedonistic delight to the ears. Cupcake's (Sagit Shir) vocals are that of a strong woman who is not only embracing her only sexuality but is demanding that other women follow suit. The ballad of the album is the song "Roses," and while it's pretty, it doesn't carry the artistic weight of "Ain't No Love," and "Pleasure Town." Hank and Cupcakes do hot and sweaty dance songs so well, it's hard to separate "Roses," from the more danceable songs without wanting more, more, more!
Along with three original tracks, Hank and Cupcakes cover's Joy Division's "She's Lost Control." It takes a lot of nerve to cover a song of a band with such iconic stature as Joy Division, and although Cupcake's vocals don't have the dark intensity of Ian Curtis' luscious baritone voice, it manages to work as an upbeat, lighter, poppier version, but still with the haunting undertones of the original.
Unfortunately, for the rest of the world, Hank and Cupcakes will be staying close to home this summer with shows in New York. So if you want to see them live, you have two options: book a flight to NYC this very second, or simply move. Yeah, we're expecting a power outage any day now thanks to the heat, but as long as we have Hank and Cupcakes on our iPods, we'll be cool as cucumbers…
Tour dates:
17 July: Pianos, NYC
22 July: The Electric Company, Utica, NY
24 July: Prospect Park Bandshell, Brooklyn, NY
31 July: Wonderful 10th Anniversary Party, Astoria, NY
7 Aug: Le Poisson Rouge, NYC
17 Sep: Utica Music Festival, Utica, NY
18 Sep: Utica Music Festival, Utica, NY