SUNDAY, JULY 18TH
I opened Sunday with CAVE's fantastic set. CAVE was one of the Chicago-openers and a great choice on the part of Pitchfork; their set was flawless and had some serious organ shredding. Opposite CAVE was an equally fantastic Alla whose latin-infused ambient sound was perfectly quaint but not quite what I was looking for. After I finished surveying the opening bands, I headed over to the Balance Stage to scope out Best Coast.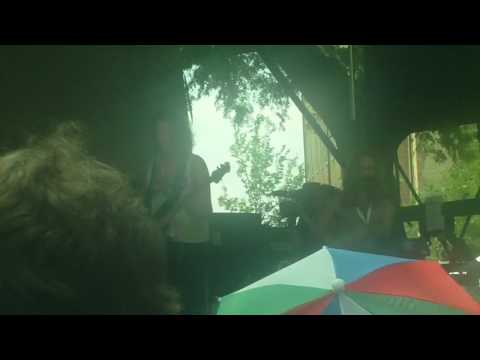 Bethany took the stage with weird guitar-bassist (whose name escapes me) and apparent new drummer Ali Koehler (from Vivian Girls) and plowed into a setlist of songs which almost exclusively regarded her desire to be your girlfriend. Contrived, yes, but almost equally catchy. Best Coast's set went on without a hitch and the group had no trouble in the album-to-live transition.
When Best Coast finished, I got some food and surveyed Girls playing their hearts out on a main stage. I hate to continuously criticize, but I really felt as if the band did a horrible job of living up to their live sound. I was lucky (or unlucky, if you look at it a different way) to catch the band's rendition of two of their most popular songs, "Hellhole Ratrace" and "Lust for Life." The latter was slowed down to an exaggeratedly slow tempo, almost disregarding the song's very foundation as a pop song; Girls entered the balladry territory. Christopher Owens's whiny croon acquiesced into an annoying squeal as he traversed the two tracks with a tepid averageness that wouldn't impress even the most unfamiliar of attendees. Guitars were strummed in an off-hand fashion, leading me to wonder: if Girls don't care, why should I?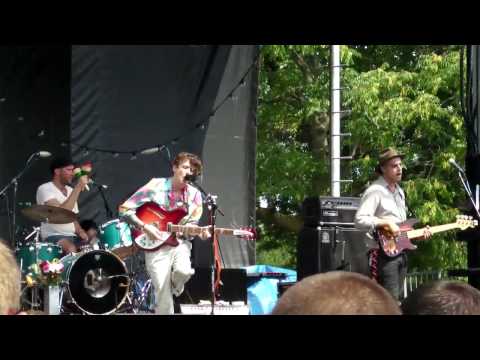 I watched only the first couple of songs from Beach House, as I have plans to see them in the coming months. As always, the group's amazing songs were as great live as on the records, with just enough twist to make their performance worth watching.
Beach House aside, I was accompanying a friend whose love for Local Natives is unmatched by any other human being. I had no intention of seeing the band prior, however, their set made me look forward to their fall show in Chicago. The group's absolute passion was unmatched by any other artist playing, and truly, not a single note was missed by any harmonizing member. "Sunhands" turned into a fantastic sing-along and renditions of "Airplanes" and Talking Heads track, "Warning Sign" enthralled. Local Natives offered a polished, energized effort that impressed even my eternally callous self.
I sadly missed out on the "set of the weekend" according to various beings: Lightning Bolt. In my penchant for Surfer Blood, I decided to keep my front row position in lieu of leaving and coming back to a horrible spot. Luckily, Surfer Blood's set made the wait (and the lack of Lightning Bolt) quite all right. The band's flawless renditions of Astrocoast tracks were executed with the highest energy–something I needed at this point in the festival.