This is part one of a two part series; my coverage of day3 will be posted tomorrow.
FRIDAY, JULY 16th

Friday's line-up delivered on exactly what it promised: a boring event to shelter the weekend's most uninteresting and undesirable acts.  The day opened with delicate sets by Sharon Van Etten and The Tallest Man on Earth.  Van Etten presented a polished take on folk music, but her work echoing across Union Park as patrons entered the festival was anything but exciting.  Following was The Tallest Man on Earth.  Singer Kristian Matsson was met with scattered applause and for good reason.  Starting immediately after the bland Van Etten, Tallest Man promised nothing more than another round of folk songs (and a mandolinist striving for Johnny Rotten in 1977 but instead toting late-career Springsteen).  The phrase "Dylanesque" has been thrown around a bit, but I think Matsson is more of a raspy James Taylor than anyone cares to acknowledge.  Nevertheless, the band chugged through a decent set, touching upon some of their better tracks.
El-P's take on rapping struck me as a bit of an unfortunate event, so I retired in the shade for the bulk of his performance.  Other hip-hop acts booked for the fest were exceptional, but Pitchfork dropped the ball on this selection.  Many sound issues would be present during the festival, however, only this set seemed to have problems on Friday.
Next up was the most promising band of the day.  Liars took the stage in an eccentric fashion, with lead singer Angus Andrews decked out in a fantastic selection of eighties garb (a Men at Work t-shirt and short-shorts).  The band played well but their set left some things to be desired; live versions of many tracks lacked the lush instrumentation and lengthy intros and outros that album tracks have.  Despite this setback, a live forum presented the audience with a more passionate and energized band than on studio recordings.  Highlights of the set included a vibrant performance of "Proud Evolution" (during which Andrews accidentally—and ironically—unplugged his mic chord while screaming "You should be careful") and a fantastic cover of Bauhaus's "In the Flat Field."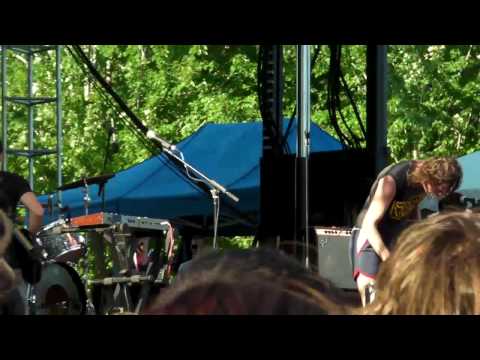 Robyn's performance was interesting, even considering my distaste for repackaged eighties music.  Tracks treaded incredibly close to their studio-recorded sound, however, were given an attractive new live appeal; subtle nuances made the songs even more danceable.
Halfway through Robyn's set, I wandered over to the comedy stage to observe one-time State member Michael Showalter traverse the "different animal" that is stand-up to terrible results.  Showalter's set was drowned out by a voracious Broken Social Scene from across the park and, at one point, a legion of ambulance sirens.  One may consider this a good thing, seeing as his stand-up—touching on insightful topics such as airplane food and penises—was received by sparse laughs.  The comedy stage was easily the worst new idea brought to the festival; I joined in on the modest heckling taking place and then quickly vanished from the scene.
Broken Social Scene haven't found an apt female replacement for Leslie Feist since she moved on to better things.  This, among many other more positive sentiments, fueled my viewing of the set.  The band plowed through an impressive array of material, presenting much of their mediocre new album in a format that merited decent results.  I'm always impressed by Broken Social Scene's ingenuity and talent, and the band readily guarantees an interesting display.  All in all, the band had one of the better sets of the day (though this isn't saying much).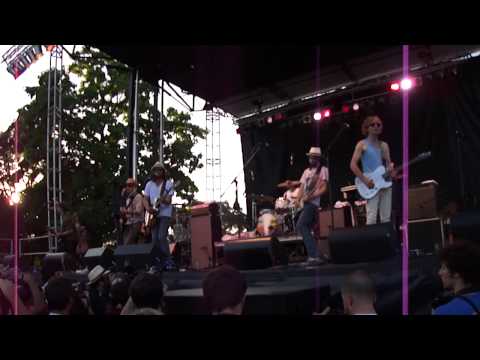 Taking the stage as the last act was Modest Mouse, a band I have a particular disdain for.  Modest Mouse's painfully-crafted atonal folk songs have never intrigued and their set followed suit.  The band played a slew of recognizable tunes alongside some of their more "intimate" rarities.  Objectively, I'm certain even the most devout fans of the band were somewhat disappointed.
The first day of Pitchfork was predictable in many ways, but I feel as if the biggest disappointment came far before the festival started.  The comedy stage seemed to be a lazy addition rooted in poor planning choices.  I, like most other attendees, would readily see another couple of Don't Look Back renditions instead of poorly planned, barely audible comedic selections.  Hopefully this will be amended in future years.
SATURDAY, JULY 17th

Saturday began with a minute conflict: Free Energy or Netherfriends?  I decided solely based on locale.  Upon entering, I was met with Free Energy running through some tracks from their addictive new album, Stuck on Nothing.  I can't count the number of times I've heard the term "generic" plastered onto Free Energy's music on one hand, but there's still a certain appeal in it.  In the grand scheme of the festival, a tight, upbeat, and danceable band was hard to find; Free Energy delivered a great performance for the sad minority and live versions of "Bang Pop" and "Dream City" were some of the day's highlights.
I waited patiently after Free Energy to find a good spot for Real Estate.  I, like many other shameless bloggers, first heard Real Estate just over a year ago via their Ducktails connection.  I had been patiently waiting to see them ever since.  Amidst sound issues (copious as they were), the band delivered a fantastic set composed of classic songs peppered with three new tracks (which sounded equally languid and fascinating).  The band closed their performance with an exceptional rendition of the fan-favorite track, "Beach Comber."  After a rare-at-Pitchfork group sing-along, the band left the stage to thunderous applause and self-satisfaction in triumph over the staff-supplied sound issues.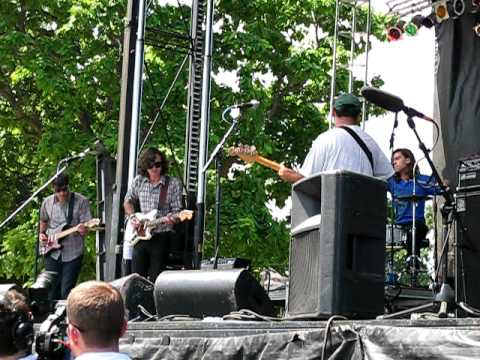 As I got to the Balance stage to view avant-psych revivalist Kurt Vile explore his hits, I realized sound problems would join "chillwave" as one of the more prominent themes of the festival.  Reverb-drenched vocals and guitar went from tasteful to murky—Vile's tradition of opening with "Hunchback" was somewhat disturbed by the indecipherable sounds looming over his music.  Slowly, the crew fixed whatever horrible things were coating his traditional lo-fi sound and Vile's set was back to shredding.  As always, the band had a great run-through; Vile continues to be one of my favorite live acts.
In my devotion to Wu-Tang Clan, I rejoined some friends near the front of the stage to see Raekwon about thirty minutes before his set was supposed to start.  The time that followed was filled with great anticipation and even greater issues with the backing DJ set up.  Three or four false starts and a slew of horrendous sound errors hacked away at Raekwon's time slot, but he finally appeared with a fantastic (yet hollow) rendition of "C.R.E.A.M.." Raekwon's promise to run through the "classics" did not go unfulfilled, yet, due to earlier technical issues, his narrow time slot was squandered on vacant renditions of Wu-Tang tracks in lieu of his solo material (which, when performed, was fantastic).  Raekwon's performance of "Jihad" was probably my Saturday highlight; the track has been a favorite since my initial run of Only Built for Cuban Links 2 and Rae and his backing guys were spot on in their performance.  About halfway through Raekwon's set, an group of kids aged about six to ten came on stage to breakdance during the next three tracks.  The juxtaposition between the crass lyrics (that "Wu-Tang Clan ain't nothing to fuck with" lyric over and over) and tiny spinning bodies was enthralling and, in that vein, very appropriate.  Raekwon's set was marred by some stylistic choices, but I left a very happy fan.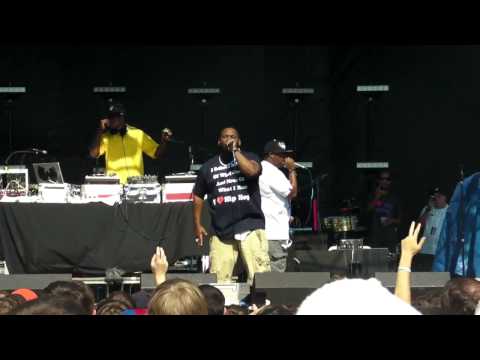 I caught the tail-end of the Smith Westerns while inching my way to the front of the stage to see Why?.  Their final two songs were polished but the band seemed very awkward on stage.  Regardless, missing the beginning of their set was a disappointment.
Why? was one of the most enticing bands on the line-up for me; for some reason the band always seemed to just miss me in their touring schedule and the exciting opportunity to finally mend this issue was feasible.  Why?'s set was flawless and one of my favorites of the weekend.  Reditions of Alopecia's "Song of the Sad Assassin," "Good Friday," "A Sky for Shoeing Horses Under," and "Fatalist Palmistry" were fantastic and the set was also heavy on Eskimo Snow tracks (fan-favorite tracks "These Hands/January Twenty Something" and "Against Me" performed to brilliant reaction).  The shameless and confident way lead singer Yoni Wolf can repeatedly touch upon masturbation and personal defeat is entertaining as much as addicting; there's an undeniably mesmerizing quality to Wolf that captivates, keeps all eyes on his every move. Anyone who missed this set should feel terrible about their scheduling choices.
Thanks to Why?, I missed out on a large portion of Wolf Parade's set.  The band has grown increasingly boring since their first album, as they continue to put out uninspiring music for the huddled masses (tired, quivering rock anthems with "just enough" commercial electronic spin, anyone?).  Wolf Parade's sound holds up live, but it's nearly useless in satisfying more than a general requirement for a good festival band; the songs are polished but just cannot draw me in.
The lackluster observation of Wolf Parade fed into another set I had highly anticipated: Panda Bear.  The performance was captivating; Noah Lennox stood mid-stage, flippantly cradling his guitar in between frantic spurts to adjust various loops and modifiers on his soundboard.  The delicate image of a single, fragile man, surrounded by a barren stage was an interesting sight in contrast to the gigantic wall of sound being radiated.  Lennox used the opportunity to test out new material (all of which will be appearing on his album Tomboy to be released in September) which seemed to alienate the audience in a way; a solid run-through of "Ponytail" caused much applause, but other tracks were met to little-to-no reaction.  Panda Bear's new material is more dreamy and droney, and his performance of "Surfer's Hymn" not only reaffirmed this, but maybe indicated that he'd be heading in a direction more "chillwave-y" (and I use this term only to touch upon the rather negative sides of genre-labelling) and Pitchfork-audience-2010-ready.  I look forward to hearing the final versions of the tracks previewed and constructing a better realized opinion on Panda Bear's new material.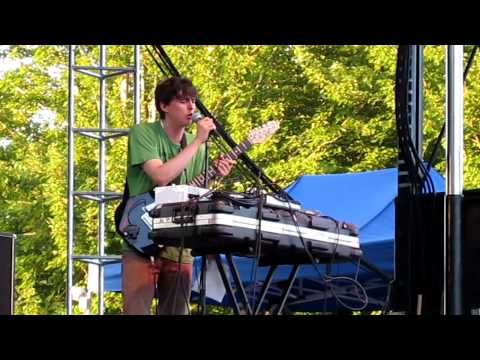 I missed Freddie Gibbs's set (sadly) and slowly made my way to the lawn in the shade to listen to some of LCD Soundsystem's performance.  As recently announced, the show was to become one of the last couple done by the band, however, I was not saddened.  There's something a little too gimmicky and contrived about LCD that's always turned me off and, as I sat in the dark meditating upon this notion, the new single, "Drunk Girls," started to play.  I am positive my opinion is right.
Cassandra Gillig