————-
'Hello. My name is Ohama, and I live on a potato farm in Western Canada.' It's hard not to smile during the deadpan opening of Tona Walt Ohama's 'The Drum', but Ohama is deadly serious. Composing entirely from an underground studio beneath his parents' potato farm in Rainier, Alberta, Ohama formed a one-man synthpop tour de force, putting out a handful of records in the mid 80s that became cult classics. Using then state-of-the-art keyboards, drum machines, vocoders and analogue reel tape, Ohama created complex, evolving songs. Found sounds such as dogs barking, lapping waves, and industrial machinery were blended with audio lifted from news reports and chatshows. Ohama then added his own abstract, cynical lyrics. The result was futuristic, paranoid, '80s techno.
Lyrically, Ohama expresses themes of paranoia, the mass media, and isolation. Ohama's technophobia is seemingly at odds with the very techno-centric nature of his music. This conflict is reflected in a dilemma apparently faced by all media-wary, isolated potato farmers in the 80s – television provided the main connection with the outside world, but the image projected by TV was unavoidably biased, or, in Ohama's words, 'terribly wonderful'. Ohama offers two solutions for this problem: A) Watch TV with the sound down (not for everyone. Ohama recommends adding your own soundtrack, using large monkey wrenches, kittens, etc.), or B) Put a hockey stick through your TV set (perhaps the more traditional Canadian approach, Ohama has been known to do this on stage).
Ohama's music is surprisingly catchy and listenable considering he cites one of his key influences as industrial noise-makers Einstürzende Neubauten, a band hardly renowned for their accessibility. 'TV' is a complete dancefloor destroyer; dense layers of analogue synthesizers and VHS soundbites are skewered by a driving, infectious bassline. A caustic attack on the vegetative gaudiness of television, Ohama sarcastically sings TV's praises ('New clip, update, this shit, tastes great, ah ha ha!'). 'The Drum' is an instrumental techno stomper previously only available on the sought after SNX Box Set. It sounds like an army of terrifyingly self-aware combine harvesters advancing menacingly across an expansive potato field.
Because we love you at SOTR, click here to download Ohama's excellent debut LP, I Fear What I Might Hear. If you're into this, you might consider getting hold of the limited edition 10 disc Ohama box set, available only through the minimal wave website. In addition to all those hard to find Ohama tracks, splashing out on one of these babies scores you 'a piece of a synthesizer that Ohama used back in the day.' Terribly wonderful.
Below is part of an interview from disc one of the box set, 'LOOK':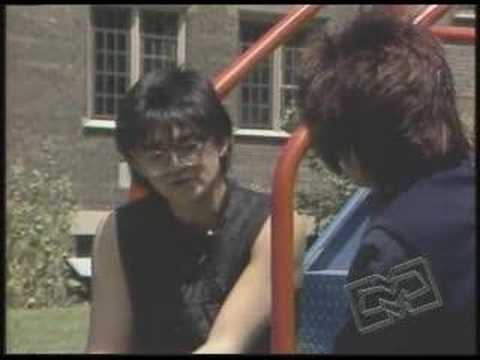 Richard Greenan.