Listening to Yeah, Techno, Paul Chambers's new EP, one cannot help but doubt the fact that this is his first major release.  Following internet hype in 2009, Chambers's potential was finally realized and plans for his first album were made.  The title track, alone, drew thousands of fans and now, with its release on May 30th, the techno musician is facing his biggest crowds yet.  We talked to Chambers about his new album and reaction to all of his recent success.
SICK OF THE RADIO: To those who haven't been following your work, you seem to have exploded onto the techno scene with your latest release, especially the title song. How do you feel about all of the positive press surrounding your release?
PAUL CHAMBERS: It feels really good. I've been doing this for a long time and it looks like it's heading in the right direction. But at the same time it's weird because I'm not doing anything different, it's just a matter of getting the right support, I suppose.
SICK OF THE RADIO: Do you think Yeah, Techno demonstrates an improvement from past work? Many times artists can use certain albums as benchmarks in their career. How do you feel this album will be viewed against other releases?
PAUL CHAMBERS: The only improvement I think is in the production and time that went into this one, I really went to great lengths to get it right. And yes, I believe there will be some pressure to do something 'as good' or better than this because of the hype it created. The next one will probably be easier to get to the public, but the magic and mystery around "Yeah, Techno!" will be very hard to recreate.
SICK OF THE RADIO: With growing popularity, more people are certainly attending your sets. What are the perks of having a larger audience?  How do you find yourself reacting to the bigger crowds?
PAUL CHAMBERS: Really good actually, I find it easier to play for a big crowd than playing for a group of people where I know a lot of them personally. You can get away with a lot more because the expectations are different, and I think a big crowd has an honest reaction to what you do. So when you do it right the energy you get back is really overwhelming and you can put all of that right back into what you're doing. I love it.
SICK OF THE RADIO: Which artists most influence your music?
PAUL CHAMBERS: Hard to put names of artists on it. But I can illustrate it with the records I have been playing ever since I started DJ'ing about 15 years ago, a lot of old school Chicago, bleepy early Peacefrog stuff, some Acid, more experimental Brighton Techno in the nineties, etc…
SICK OF THE RADIO: With your genre being something very sensitive in regards to a live act, do you feel your material transfers well from a live performance to a recorded one?  Are you happy with your record's ability to capture your live sound?
PAUL CHAMBERS: All the tracks I make are for my live set. After playing them out I choose which ones work best and start over to create the well produced studio version. Always listening to the live recording, this works really well for me. But it's hard to get the live feel onto a record.
SICK OF THE RADIO: Which piece of equipment you use is your favorite?
PAUL CHAMBERS: My customized Sequential Circuits Pro-One. Basically it's everything but the keyboard, this way I can easily take it on the plane so I can take good care of it. I know it's a risk carrying around a 1981 vintage machine everywhere I go, but I love using it in my live sets.
SICK OF THE RADIO: What are your plans for the future?  Any releases coming up?
PAUL CHAMBERS: I'm about to release a track I did with Shinichi Osawa. It's out already in Japan but I think it will come to the rest of the world soon. I'm also working on a guest mix for the online Radio Soulwax which will be a lot of fun, and I'm also working on some remixes.
SICK OF THE RADIO: How do you perceive the techno scene as it is right now?  Are you happy with the current trends?
PAUL CHAMBERS: The way I see it is that you can really do what you want now. If you look back ten years it feels like there were more constraints in genres. Anything goes now, you can have an Acid bassline running followed by a Rave loop mixed into a Disco groove. Maybe not everybody feels the same about this, but as long as I have the feeling people are open to this madness, I'm happy.
For all of the latest and greatest happenings going on with Paul Chambers, please go to Phantasy Sound
Yeah, Techno! is available to buy from the following locations: Beatport, Phonica Records, Rough Trade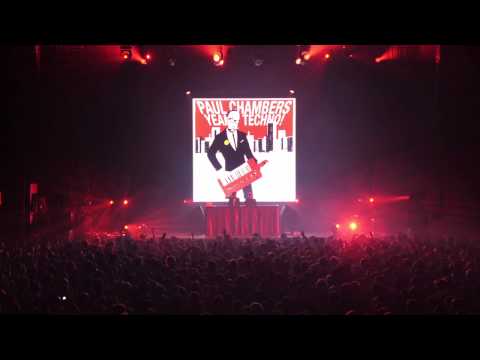 By, Cassandra Gillig