"Actual retarded man on morning news" is how Dan Deacon was hoping people would see him as after his performance in 2006 on NBC's morning talk show in Ohio. He had got the gig after a friend who worked with the station put in a good word. But, needless to say, after this performance the heads of the station were defiantly not too pleased with their decision to air him.
Dan is also the voice behind the popular viral video "Drinking out of cups" which has gotten over 8 million views on YouTube. The origins of the movie seem to be rather blurred but the most popular story, is that Deacon locked himself in a closet, his friends outside heard him talking and recorded it. He himself claims in a MySpace bulletin:
1. I WAS NOT LOCKED IN THE CLOSED AND BEING RECORDED
2. I RECORDED THE TRACK 100% SOBER
3. I USED THE TRACK A SCHOOL PROJECT AS A SOLO VOICE/TAPE PIECE
4. YES, THAT IS ME TALKING AND I WROTE THE PIECE
5. ITS A CHARACTER SATIRIZING LONG ISLAND STEREOTYPES
6. THE SONG CAME OUT IN 2003
7. THE VIDEO CAME OUT IN 2006
He's come along way since then and put out Bromst in 2009, which was his best album yet. In some of the tracks he used a player piano that had been rigged to play midi files from the computer. The songs are dense and complex but still rather soothing, and like most of his songs previous, pretty catchy. A wide variety of instruments are heard in this album including mallets, drums, the player piano, and at times even a barking dog all which seem to melt together as they flow out of your speakers and implant deep in your brain.
By, Jennifer J Greene
Download 12 Free Dan Deacon Tracks HERE!

Dan Deacon- NBC morning news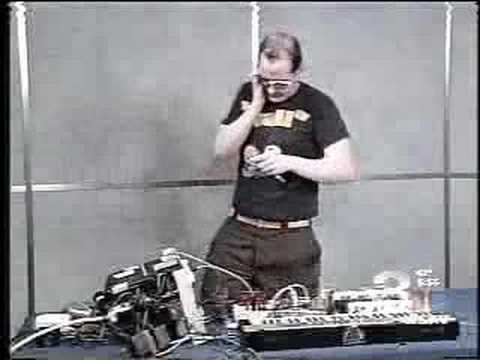 Dan Deacon/ Liam Lynch- Drinking out of cups

Dan Deacon talks about player piano