[wpaudio url="http://sickoftheradio.com/wp-content/uploads/2010/04/High-Places-On-Giving-Up.mp3" text="High Places- On giving Up" dl="0"]
Los Angeles-based experimental duo High Places have been on indie radar for the past year, repeatedly scoring critical acclaim from influential publications such as Pitchfork, Drowned in Sound, Paste, Allmusic, Spin and others.
Journalists often mention Robert Barber and Mary Pearson's contrasting music backgrounds as pretext for discussing High Places' sound– Barber grew up listening to underground punk and hardcore, while Pearson was studying bassoon performance when they met. Layered, rich and intricate, High Places make use of a wide range of instrumentation– ambient synth laced with bells or glockenspiel back Pearson's airy vocals and clever, reflective lyricism.
High Places' self-titled was released to warm reception, followed by an equally well-received singles collection. Their latest, the excellent High Places vs Mankind, was released March 23.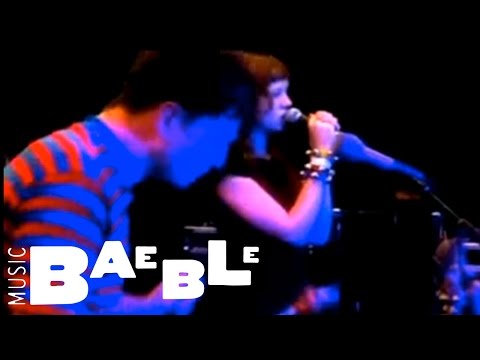 CURRENT TOUR DATES
03/19 - Los Angeles, CA @ The Echo
03/24 - San Francisco, CA @ Rickshaw Stop
03/27 - Portland, OR @ Berbati's Pan
03/28 - Seattle, WA @ The Crocodile
03/30 - Salt Lake City, UT @ Kilby Court
03/31 - Denver, CO @ Hi Dive
04/01 - Omaha, NE @ Slowdown Jr.
04/02 - Minneapolis, MN @ Triple Rock Social Club
04/03 -  Chicago, IL @ Schubas
04/05 - Columbus, OH @ The Summit
04/07 - Philadelphia, PA @ Kung Fu Necktie
04/16 - Madrid, Spain @ La Casa Encendida
04/17 - Barcelona, Spain @ LA2
04/18 - Valladolid, Spain @ Espacio Joven
04/20 - Paris, France @ Point Ephemere
04/22 - Milan, Italy @ Amigdala Theatre
04/23 - Pisa, Italy @ Fosfeni Festival (Citta Del Teatro)
04/24 - Dudingen, Switzerland @ Bad Bonn
04/25 - Prague, Czech Republic @ Bio Oko
04/26 - Zagreb, Croatia @ AT
04/27 - Graz, Austria @ Explosiv
04/28 - St. Gallen, Switzerland @ Grabenhalle
04/29 - Dijon, France @ Kill Your Pop Festival (Atheneum)
05/01 - Antwerp, Belgium @ Trix
05/03 - Brighton, UK @ Freebutt
05/04 - London, UK @ Cargo
05/06 - Glasgow, UK @ Nice & Sleazy
05/07 - Sheffield, UK @ The Harley
05/08 - Leeds, UK @ Brudenell Social Club
05/10 - Amsterdam, Netherlands @ De Nieuwe Anita
05/12 - Berlin, Germany @ Spex Festival
05/13 - Copenhagen, Denmark @ Rust
05/14 - Stockholm, Sweden @ Debaser
05/15 - Malmo, Sweden @ Debaser
05/20 - Lisbon, Portugal @ ZDB
05/21 - Porto, Portugal @ Plano B